Pets Friends Veterinary Clinic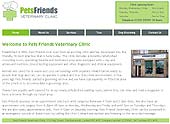 Simple brochure site
David Charity of Pets Friends Veterinary Clinic wanted a "brochure" web site to show potential clients the facilities and services available at his clinic.
The site has a photo tour of the premises and a Google map showing the location.
The site design was based on the existing logo, using complementary colours and fonts.
Visit: www.petsfriendsvets.co.uk